Z-Man Games and Hobby World to release Bastion in 2017
Published: 2017-03-21 22:19:39
Viewed: 1058 time(s)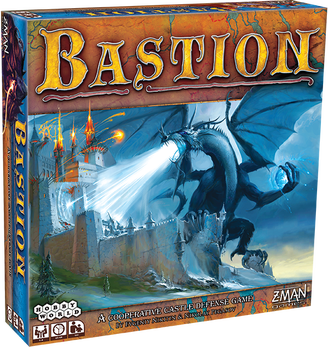 The castle is under siege! Hordes of monsters gather near the ancient walls and are about to smash open the castle gates. Mountain giants trample the fields, fire riders burn the surrounding settlements, and the ice dragon has nested on top of the citadel tower, horrifying the minds of the inhabitants of the bastion. Only a squad of stubborn heroes stands between the enemies and their ultimate victory.
Bastion is a cooperative castle defense game for 1-4 players. You will defend the castle that is located in the center of the game board and is menaced by a great variety of invading enemies: dangerous beasts, ferocious warriors, terrible monsters, giants, mages, and even mighty dragons.
You will travel the bastion districts, draw energy from sources of magic, build obelisks, bombard the enemies by magical devices and learn new spells. You will be gathering specific mana that is required to defeat each of the invaders. Victories allow castle defenders to gain new abilities, build powerful artifacts, and perform magic rituals.
Bastion is a highly customizable and replayable game. There are several scenarios and difficulty settings in the rules, along with the solo mode.
The enemies are getting closer. Be prepared to defend the castle!
Z-Man Games and Hobby World are joining forces to bring you the international release of Bastion in Q3 of 2017.