The interview with Yuri Zhuravljov - author of Viceroy and The Golden Sails
Published: 2017-08-22 18:20:00
Viewed: 1196 time(s)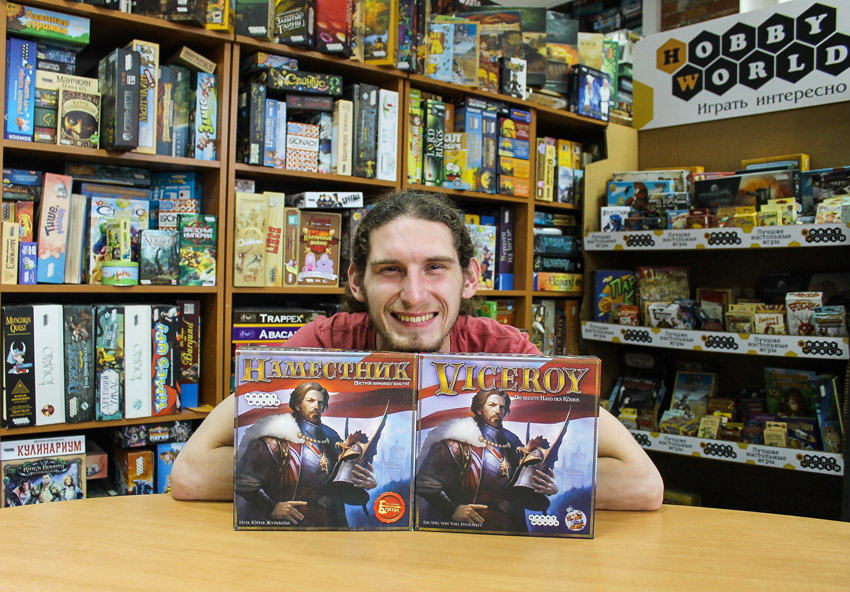 - Tell about yourself, please. For ones who don't know you.
- My name is Yury, the family name is Zhuravljev, working in game design for the last 7 years. I'm living in Moscow and came here from Ukraine. I hadn't finished University, so I'm a bad example if we are talking about education. [Laughing]
- What specialist would you be if would finish?
- Engineer of electro-optical systems. I had left the first course, even didn't wait for the first session. No regrets, really happy about it. I'm living, as already said, in Moscow and all my work is board games design. Always tell that I'm a professional game designer and proud of it.

- So board games are permanent employment, permanent income, for full time? The games are not a hobby anymore, it's a work?
- Yes, it's a work. For the last years, I made my bet on game design. Before that I was working in publishing company Lifestyle, in Igroved, there was a club Random Place what I was managing, but I had sold everything – thank you, but I'll do something else. Dealing only with game design since February 2017. Nothing is distracting me now
- Since what moment you are designing board games? I mean, okay, you have 7 years of professional game design. But what was before it? Maybe you were trying to design something in childhood?
- I hadn't t realize it for a long time, but on the second year of game design I was digging in my past and figure out – yes, I was designing card games in childhood. My childhood was in Ukraine, and my grands were collecting journals Science and life and Young technician. There were rules of different solitaires and others card games. I was trying them but nothing had worked. Then I made up my own rules and successfully played in it [laughing]. That's a basic. In addition, grandfather was trying to learn me chess. My cousin even had some grades in chess and was jeering on me but I DID'NT UNDERSTAND A THING IN CHESS! [Laughing] Once, I and my neighbor friend made a handmade Monopoly. One day he remembered that somewhere saw it. The box and content itself we never have seen, precisely I have never seen, he is maybe. We have found some cards (grandmother was a teacher, so different paper stuff was a lot), drew it, signed and 3 days in a row were playing.

- So, was it a standard Monopoly, just handmade?

- Honestly speaking, I have NO idea what it was [laughing] We used to think that it was Monopoly, but what it was in fact – I don't know, don't remember. We were playing something J

- How is the idea of a game coming? From what a game is beginning?
- Oh, it's going to be a lot of metaphysics… Well, if we are talking about my first 6 years of developing, I used to think that everything is from the brain, the brain is the creator. But everything is bullshit. When someone told me that brain has another function in our life – okay, brain, thank you, you will be less powerful from now. Everything is coming from the subconscious. I'm looking at a paper roll and don't know how much I can abstract and what I will see. I can see board game in it, or just paper roll, or… I don't know... ALL MY LIFE WAS A MISTAKE! [Laughing] Anyway, the subconscious is a pretty dangerous thing but everything from there.

- Another words, classical "it hit me"?
- Yep. It's hard to explain. There is TRIZ – theory of the resolution of invention-related tasks, what is helping to find unique solutions. There is a table with 36 parameters. For example, we have a task: the car doesn't move. You are abstracting from this wording and searching in the table "low friction" and "energy overspending". You are going away from the specific problem and its wording. And you will find the solution on the crossing of these two parameters. It's pretty abstract thing but helping to work with the subconscious. Like Tarot cards, if abstract.

- Metaphorically.

- Yep. There are images, what were created many years ago and you only lay it and read the information. It's a real thing. I don't know how it's working. I was trying to dig it, but nothing worked. Anyway, I can't say from where board games coming and can't teach another man to create it. All I can say is: sit down and work. 10 000 hours of practice – that's what I know [laughing]. But I can't live these 10 000 hours instead of him.
- Do you remember how the idea of Viceroy hit you?

- It's connected with my school nickname "Yura_contra_veto": clumsy translation of Latin "Yura against taboos". But the point isn't in taboos; it's about stereotypes and patterns, against stereotypes and patterns. I'm making board games (of course if it's not a task from the publisher, but my free creation) with one rule: do like no other. The idea of Viceroy came to me from cards firstly. Mostly, cards in board games have one effect, which you can or can't use in the particular situation. And my idea was about making a board game with cards which can be used in any situation. Well, I did 4 different parameters and a higher built card will bring you more profit. Any card is useful now.
- The Golden Sails is also about it.

- Yep, this idea doesn't let me go. I like when one thing is connected with the number of positions. The Golden Sails is using the idea of a cooperative competitive draft, let's call it so. In the beginning, players decided the effects of the cards and only then trying to get it.
- I've read in the others interview with designers, many of them are starting from the setting. "Wanna game about aquamarine – and only then trying to create mechanics". But looks like you are starting from the opposite, from the mechanics. Is it right?
- Yes, I'm doing it better. I have a pretty abstract way of thinking; I can imagine some crazy idea and see a board game in it. Once I've read Illusions Perdues by Balzac and there were bills for exchange or something. I had no idea what it was but wanted to know and went to Wikipedia. I had read… And still didn't understand what is it, but I've seen a board game in it. I had made a board game for a couple hours, where resources cards (bills for exchange) can't be transferred into goods at any moment. I don't know how the bills are working, but I understand something like that [laughing]. The idea was in changing these cards between players, they have to convince each other that it's useful and they will be able to transfer after N rounds. That's how games are coming into your mind.


- How are you balancing your games? Alright, you have an idea, mechanics, what about the balance?

- It's a great question for MTG guys: "How are you balancing your 15 000 cards?" [laughing] But the answer is really simple: tests, tests, tests and one more time tests. How you will be doing this – by hands or computer – doesn't matter. The question of balance is pretty interesting. As I learned for myself, there are couple types of the balance. First one: tester's balance. When you are playing any game in the very first time, you can notice that something is broken, imbalance. But you will understand after the 30th match that nothing is broken, that those cards allow you to make something interesting, and other cards allow countering first ones. You will understand that everything was balanced you just can't realize it from the first time. Your level of knowing the particular board game is rising and you start to understand more things. That's what testers know. Newbie is looking at it and thinking that's a dumb, OP, and he will never play the game again because some cards are IMBA in his opinion. Developers have to keep it in mind because when you are working on a game a lot of time, you are losing an ability to look at the game by fresh eye. The second type of balance is mathematical, the balance of the scale. When one side is absolutely equal to the other. Chess is a good example, but there is no absolute equality too because the element of the first player is a presence. If players would make their moves in the in the one time – it would be a perfect balance. In the same time, this type of the balance can be broken by players. There is a story about chess. Chess master was playing with a friend and the second one had decided to troll – he was just copying every move of grand master. Absolutely symmetric match: e2-e4, e7-e5 and so on. But grand master's moves leading friend's figures into the trap. So you are thinking: symmetric match, perfect balance! But nope. So it's pretty tricky thing. For myself, I understand the balance as "when it's playing like an author was planning". It's sound like "I'm an artist, that's my vision", but if you are thinking about this phrase through the years of experience, you are seeing that it is the balance. For example, Race for the Galaxy, there are couple similar cards but different cost. Why? Because the author had decided. Splendor has the same situation. So what? The balance was broken with purpose. But if you are playing and you like it, so the balance is fine.
- How many matches are you playing before sending a game to a publisher?
- If you are doing it with diligence – at least 100, if not – something like 5 [laughing]. I have an example, when I was playing my game 1-2 times, brought it to the publisher and they took it. Well, I had caught something! [laughing]. The game was quickly found and well played. The very example, when effectiveness depends on quality, not on spending time. I can think up a game and it will playable after 2 iterations and further, I will make an only small correction: +1, -1, add effect, erase effect. A fresh example: I'm back from a contract signing. I was playing in the game 2 times and honestly was thinking that publisher will not take it, that there will be a lot of iteration. But we played, everything is cool and after a week I have the contract. That's what happened. Sometimes you are working on a game for a very very long time, you have a 3d filled up notebook, you are dug up in it and don't see a light. I have such game, it's in development for 5 years. Pioneers. And the idea of the game was hitting me pretty suddenly too. Recently I've reached the very first version for the memory refreshing. And today version has nothing in common with the first except an idea of different components for different players.
- What is the most important thing for the development?

- Don't stucking. I've always told that there are two types of developers. The first one is developing one game 3 years and thinking that on the 4th year it will be published. Hardly. The second one is making 20-30 projects every year and the most of them will never be seen by people, in the best case, 2-3 will be published. I'm from the second camp and it's very important to don't stuck in one game. Yes, I had big projects what were in my mind in the morning and in the night, but if I was stucking in it – nothing will be done. I want to say, that you must tell yourself in the right moment: "Let it be" – and move further. Let it be some game for children, parties, small and unimportant, but it's very necessary to toggle on another project. I've felt it with Pioneers. Pioneer's essence is asymmetrical gameplay, each player has own rules. And when the publisher asked me to change 2 sides (i.e. invent two new games what will be properly interacting with each other), I was very unhappy. And I was broken: throw into garbage all my developments, stats of tests, and start from the beginning. I couldn't let and toggle. It's easier now when I've done everything that was needed. But wrest a piece of my life from myself, 3 months and told myself: "I was making a bullshit for 3 months" – it's very hard. But It's necessary. You have to do it. And it's the most important thing.
- How can the person, who has never played board games before, be interested?
- There is a standard answer: don't give him Arkham Horror for the start. Though… Nope, let's talk in the other direction. There will not be advice; there will be a personal experience. I was trying to familiarize my mother with the world of board games. Frequently speaking, she is the very business woman and always refuses to play. I was thinking to interest her by something simple and suggested Tortuga, Hive and something else, don't remember. Eventually, she was admired by Stone Age. It was very unexpected for me, I didn't expect that she will like it, will endure all rules what for the person who has never played before is pretty hard. So I was thinking about her worse than she is. Another example, I know a girl who was starting from Arkham Horror and everything is fine. Just don't push on a person. Someone likes only Uno, another likes Monopoly and doesn't want anything else and if he/she doesn't want – don't insist. Of course, I understand that it can be the reason of the problems in the family or friends. But what's now? Let the people be yourself.
- Are you playing in the games from other authors?
- Lately nope. As Random Place [board gaming club what was holding by Yury) was closed, I understood that board games really tired me. I'm only developing, not playing. Couple days ago was playing Codenames and Dominion but it's 2 games for 6 months. I'm just glutted by board games.
- Have you any sorrows about it? You are developing so many games, spending so many time and you can't play board game just for pleasure?

- Nope, I have not. I even have some kind of a relief because I can toggle on other hobbies. I just realized in the one moment that hobby=work in my life and it's pressing me. You couldn't even talk with about anything else except board games [laughing]. I'm trying to separate work and hobby, interesting in others thing. Because 7 years of board gaming… Suddenly it turned out hard for me.
- Alright, you are playing rarely for now. But for 7 active years – what are your favorite games?
- Race for the Galaxy, first edition Mansions of Madness. I haven't played in the second edition but heard that it's pretty strange. X-COM is good too, everyone is berating it though. But I was playing only once, maybe didn't notice something.
- It's pretty common opinion that Viceroy is the hard game: a lot of math, great variety, combinations. Are you playing well your own game?
- Nope [laughing] I'm playing very badly my own games. We were recently testing Pioneers and friend made a compliment that I finally learned to play my own games. Yep, cool, it should happen a long time ago [laughing].
- Do you agree that Viceroy is the hard game?

- If we are speaking about rules – no, they are very simple. If we are speaking about mastering, I think yes, Viceroy demands high combinatorics skills. It's not the highest in the world, but still pretty high. I have a friend who is helping to test my games (Denis, hi!) and it's easy peasy to reach 120 and more points for him in Viceroy. And here I am, looking at his 120 with my 50 and thinking: SERIOUSLY!? HOW!?


- Classical easy-to-learn, hard-to-master.

- Yes. By the way, here is a story. Recently I have visited the new club with Viceroy. And there were sitting ladies and gentlemen around of 40-50 years old and they are not board gamers for sure. I was promoted as the author with own game and I was thinking in the moment: "Dude, whyyy?" Anyway, we have started the game. A man who has never played board games before and 2 women from the same group. "It is the end" I was thinking. I have explained the rules aaand… played. We had pretty similar results (of course you remember my 50 against 120). But the most important thing is they understood and were delighted by the game. It was some kind of revelation for me. I thought the game is harder than it's turned out. People are different though.


- Except for Pioneers, what are you working on for now? In the framework of the disclosure.
- Expansion for Viceroy, though it's on publisher's shoulder, for now, my part is finished. One card game, the contract was signed today; I will not discover the details. Another one is for me (at least for the moment), born from the same contra-veto principle as Viceroy. The idea isn't complete yet, but I'm working on it. The essence: what if will we look at the history from the other side? For example, there never was Tesla, WW II and so on. I've looked around and figured out that such things exist and the name of it is information war. For example, The Battle on the Ice. Officially, it was holding on Chudskoe Lake. But there are other versions, one of them insists that is was near by Moscow, second told that it was near by Petersburg, third claim that there was nothing and it is a myth. And when was it? 1242? Or even 18 century? Where is the truth? Everyone believes in what he likes. But there is growing up some kind of official view, the version what is a presence in school and media, social agenda. I am thinking about board game based on it. There are some conditions-events and cards of facts, which allow changing the historical events. For example, there is an event "They were saviors", I.e. some military group what was marked in the history as heroes and it's very prestigious to hire them. From the other hand, there is an opportunity to change them to "Thugs" and from now on it's pretty uncomfortable to know them as friends. A player can decide how to win: a classical way of killing the opponent or information methods just like changing "heroes/thugs". I don't know what it will be in the end, maybe nothing. But my notebook has the idea and for me, it's the next exam.


- And the last question from the community: should we wait of returning your Random Place club or something like that?

Well, let it be "wait" but not from me [laughing]. I sold out all the club collection and gathering it again…? No. There are some details. When it was starting, I had the strong association with TamTam club in Petersburg: punks, rockers, revelries, just a fresh air for ones who seeking of self-expression. Random Place was the same thing for board games authors, besides there was no analog in Russia. It was Moscow TamTam about board games where authors are coming, playing and meeting. Well, the destiny of TamTam was repeated. The same events there were. Anyway, as the ship was naming…